Chimney and Fireplace Repair & Restoration
We repair and restore chimneys and fireplaces in Spokane. We offer a wide variety of chimney repair services including:
Tuckpointing
Chimney liner installation
Gas water heater and furnace vent installation
Masonry repair and restoration
Metal chimney replacement & installation
In addition to those repair services we also offer woodstove and chimney maintenance to keep your appliance running efficiently. Such as:
Firebrick replacement
Wood stove door and glass gasket replacement
Baffle board and insulation replacement
Stovepipe replacement
Masonry chimney waterproofing
Energy efficient fireplace dampers
Masonry Repair & Restoration
We offer a variety of chimney masonry repairs including, repointing (tuckpointing), rebuilding and concrete crowns to get your chimney or other masonry project fixed and looking like new again.
Metal Chimney Replacement & change-out
We replace and install metal chimneys using new components. Old, worn out, or improperly sized chimneys can pose a serious risk.
Chimney Siding Water Damage Repair
Many modern chimneys are wrapped with house siding instead of masonry, repairs should be made by a chimney expert. We can replace chimney chase covers, and siding when it becomes damaged or destroyed.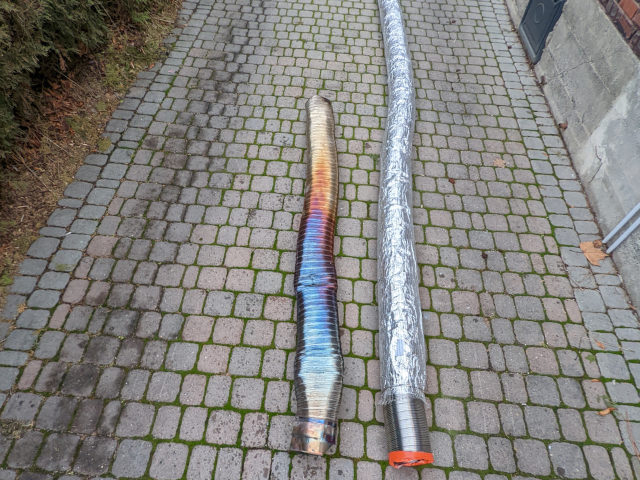 Chimney Liner Installation & Relining
In this photo you can see an improperly installed chimney liner that had to be removed. It prevented the safe operation and sweeping of a wood burning insert. We install ti-alloy stainless steel chimney liners as a replacement for burned out, damaged clay flues.
Removing soot, ash and creosote reduces the risk of chimney fire and keeps your fireplace running efficiently
Have your chimney inspected before the purchase or sale of a house, or as part of your annual home maintenance
Whether it's due to ageing, improper installation or chimney fire damage – We can fix it! Schedule an estimate.
We fix leaky chimneys! Flashing repairs, loose masonry, rain caps and masonry water repellent
Improve efficiency, reducing the time it takes for clothes to dry and reduce the risk of dryer fires
We offer chimney services in, Spokane, Spokane Valley, Deer Park, Suncrest, Cheney, Loon Lake, and Eastern, WA
Thank you for choosing Evergreen Chimney Sweep