Chimney Sweeping Service in Spokane
Spokane contains old homes and modern construction. Chimneys built during different time periods were designed and constructed for different purposes and capabilities. Many of the older homes have aging chimneys and venting systems that have not been maintained, cleaned or even inspected in years. Often new heating systems have been connected to old chimneys without regard for the condition, age or original function. Modern fireplaces and woodstoves have increased in complexity in order to meet newer standards and codes. These are not always installed correctly. We are trained with the industry's best professionals and are familiar with all types of setups and systems.
See our Spring Cleaning special on Google
The purpose of sweeping a chimney is to remove soot, ash, creosote build-up and blockage from the chimney flue, rain cap, smoke chamber, and other areas. This is to improve the safety, function and long-term condition of the chimney and heating system. Creosote is acidic and highly combustible. Chimney fires are often the result of a poorly maintained system. Having the chimney swept once a year is a simple way to avoid issues the next time you use your fireplace or wood stove.
The Evergreen Chimney Sweep Method
Our chimney sweeps use drop cloths to protect your floor and a dust management system including a high power vacuum with dual dustless HEPA filters built specifically for ash and soot. We use a power brushing system to sweep the flue which is more thorough, efficient and cleaner than the old traditional fiberglass rods and wire bristle brushes. A wireless photo/video camera can be used to inspect the chimneys interior. Our technician will study your chimney during the top-to-bottom inspection. The client is then provided a written condition report on paper, signed by the technician and the customer. This invoice serves to disclose important information about your heating system. We will take care of your fireplace and home as if it were our own.
How often should I get my chimney swept?
We recommend an annual cleaning and inspection of the chimney and fireplace or wood stove. Plan on having the chimney swept every year after the heating season. It's important to make sure your chimney is free of obstruction and in working condition before the cold weather arrives. If you can't remember the last time you've swept your chimney, it's definitely time.
How long does a chimney cleaning take?
Our typical appointment takes one hour on average. This can vary depending on roof access, the type of wood stove or fireplace and the amount of creosote. Unforeseen conditions inside the chimney can make this take longer, sometimes up to two hours. This is rare and we let you know in advance before proceeding if extra time is needed. The safety of you and your home is our top priority so we will not rush through a job.
Can I sweep my own chimney?
Increasingly modern wood stoves and fireplaces are more difficult to access, disassemble and require more specialized brushes, tools and equipment to service properly. Not to mention climbing on the roof is dangerous. A DIYer may be able to remove some blockage but may not be qualified to identify a danger or hazard.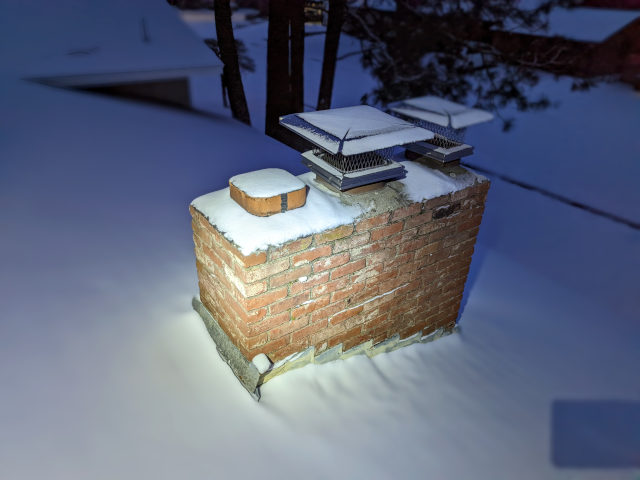 When is the best time of the year to sweep my chimney?
Spring, after the heating season is over, is the best time to sweep a chimney. Remove the acidic creosote and ash early and avoid the rush of the fall. Don't wait until the heating season has already started in Spokane to take care of your chimney. The spring cleaning allows plenty of time and more options to take care of any repairs. When the cold weather arrives your fireplace or wood stove is ready.
Removing soot, ash and creosote reduces the risk of chimney fire and keeps your fireplace running efficiently
Have your chimney inspected before the purchase or sale of a house, or as part of your annual home maintenance
Whether it's due to ageing, improper installation or chimney fire damage – We can fix it! Schedule an estimate.
We fix leaky chimneys! Flashing repairs, loose masonry, rain caps and masonry water repellent
Improve efficiency, reducing the time it takes for clothes to dry and reduce the risk of dryer fires
We offer chimney services in, Spokane, Spokane Valley, Deer Park, Suncrest, Cheney, Loon Lake, and Eastern, WA
Thank you for choosing Evergreen Chimney Sweep